Look back at My Perro Rano review on
FLAUNT

Magazine by Karyn Campbell July 10, 2019
LA FRONTERA, MAURICIO PALOS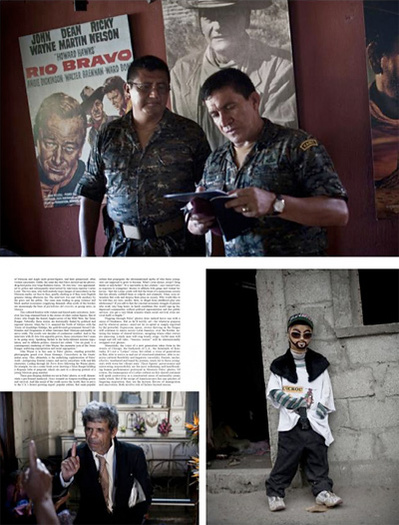 LA FRONTERA, IMAGES OF IMMIGRATION BY MAURICIO PALOS 

written by Karyn Campbell

If your name is Juan, or whatever, and you're deported, or found incarcerated at the El Paso, TX ICE Detention Center, then you're likely to receive a small tube of Maximum Security Gel Toothpaste and a coloring booklet called American Symbols. In this 8-page librito, you'll find out the flag of the United States is special, though dubiously, not why. You may also be told what the "first" immigrants to the United States saw, The Statue of Liberty, as if it were built into the natural landscape. And you may be wondering why your family has lived in this borderlands region for centuries, now divided by the border between the United States and Mexico, and regardless on which side you tiptoe, you will always risk falling off the fence.

There stands a statue in Intipucà, a Salvadoran town, commemorating the first migrant to leave for the United States, though whether he's really the first is of course doubtful. Towns in this area are being drained by immigration and have been for a long time. And so, donning a rucksack, surrounded by awkward turquoise columns, this public monument exemplifies both the glorification of the immigrant, and his forgotten form within the community, as trash gathers round the unkempt rims of his fountain home. Since his departure, thousands more have followed in his footsteps despite the risks of abduction by gangs and police alike (often in cahoots), the loss of limbs, and eternal familial separation. The goal: to reach a state like Arizona, which of late has passed legislation one might liken to Nazi Germany mandates, requiring those in question to prove their civil status upon "reasonable suspicion." 


In discussions with border-lit expert Pedro Garcia-Caro of the University of Oregon on this matter—within the framework of Mexican photojournalist Mauricio Palos' photos from his book My Perro Rano, featured herein—he replied, "Even third generation immigrants, children of U.S. citizens, born and raised in this country, will be liable to question and open interrogation with the flurry of racial profiling laws that are going to cascade from Arizona's SB1070 and Tea Party white supremacist rhetoric. The Arizona Senate Bill invites police racial profiling under the provision: 'Reasonable suspicion exists that the person is an alien who is unlawfully present in the United States.'" Oddly still, after years of political and economic oppression from foreign powers, and discriminate initiatives like the one above, the iconography of the United States glimmers with hope for men like the one standing in stone in Intipuca.


Today, an estimated 1,400 Mexican, Central, and South Americans will attempt to cross the U.S.-Mexican border to find family, financial betterment, or to partake of this coveted and similarly criticized land mass that, throughout the course of 300 years, has branded itself the chosen nation. Palos, who photo-documented these journeys throughout Mexico and Central America, describes the results, as well as his relationship to its complex subject matter, as going "beyond merely a physical border and a group of immigrants who jump onto trains, perilously searching for another kind of life." Those Palos speaks of venture as swimmers, runners, traffickers, and the trafficked. Each faces potential detention or death in the desert. And though many of these men and women make it across la frontera, the American Dream, especially the Hollywood version, remains elusive.


Let's look at this failed construction. Beyond drug dealers and suave, dominant lovers, mainstream American media allow limited roles for the contemporary Latino man. The Motion Picture Association of America estimates that in 2009, Latinos (in this case, that's anyone with origins in Hispanic countries of Latin America or Spain) purchased 300 million movie tickets, attending more movies per capita than any other ethnicity. Although Lionsgate and Televisa recently created a joint venture, Pantelion Films, to capitalize on this ballooning market, its first big release, From Prada to Nada, seems to fulfill yet again the many stereotypes of a Latino American community—rich pochas flaunt their money and consider their Mexican side embarrassing before circumstances encourage them to embrace their fuzzy Frida Kahlo history.


So what does the typical hombre resemble in the United States? Does he sell drugs and/or make sweet love to the mamis? Statistics point out that he's probably working manual labor. For example, the 2004-2005 National Day Labor Study sampled 20 U.S. states and found that 98% of day laborers—people seeking temporary work on a daily basis—were men, 86% born in Mexico or Central America, most in their 20s and 30s. A few years after these illustrative numbers surfaced, The American Public Health Association published a study revealing loneliness as an enormous factor in workers' migration experience. It also noted that bars and Catholic churches serve as the two primary social spaces for this community. Karaoke after Sunday church hymns is not an unfamiliar musical combo in Central L.A., for instance. Despite the camaraderie found in these venues, loneliness, much of which is contingent on familial separation, continues to cloak the immigrant condition. The California Department of Health Services suggests the Latino migrant worker condition may also put him at a heightened risk of HIV, considering lack of preventative education, language barriers, and a number of additional factors. 


Considering the bleak conditions, how and why, in the past two decades, have so many caballeros, cabrones, y gueys arrived to the land of the free, often alone, in order to do low-paying, hard labor? "Obviously, the economic factor is a migratory impulse in developing countries," Palos suggests. "Mexico as a government sees immigration as a human right and the U.S. does not. This is a major difference, although the two governments are allied on this issue in many ways. However, the U.S. pushed through NAFTA and the demand for both legal and illegal goods quickly developed, bringing not just more goods, but people across the border with them." Palos' theory is widely thought influential in today's immigration debate. In 1994, when NAFTA went into effect, with the intention of increasing the flow of goods and services throughout North America, the amount of cargo trucks crossing the border greatly increased. Whereas immigrants previously utilized the Caribbean to arrive to the U.S. via boat, this new activity changed the game, resulting in diversified immigrant movement, including Latin, Chinese, and Russian, to and from, across the great divide. As author Eduardo H. Galeano metaphorically states in the introduction to Open Veins of Latin America, a book recently under scrutiny from Arizonan legislators, who redlined the Mexican-American cultural program from Tucson public schools, "The more freedom is extended to business, the more prisons have to be built from those who suffer from that business."




The same year as NAFTA's passing, Operation Hold the Line, and Operation Gatekeeper were enforced in El Paso and San Diego, respectively. This saw the construction of hard-to-penetrate walls, which utilized high-tech military surveillance equipment. The result? Instead of immigrants crossing densely populated regions, like San Diego, these policies encouraged border crossers to alternatively walk through deserts, a terrifying reality faced by many of those journeying in Palos' photographs.


In addition to politics, literature and lore have helped create narratives of identity that both substantiate stereotypes, and conversely undermine them, like the work of Galeano above. Professor Garcia-Caro spoke to the narratives that Palos' photos invoke, calling the massive, symbolic irony of idealized prosperity met with poverty and bloodshed, a "visual exploration of the ossified, nearly meaningless status of national symbols in an economically depressed, neocolonial region such as Central America." He further articulated that, "This is the same reality portrayed in the film Sin Nombre [director Cary Fukunaga's award-winning drama of train-top immigrant journeying]. The train appears as a derelict post-apocalyptic promise of renewal and hope; it is also a reminder of the failed projects of colonial modernity that created the conditions for contemporary poverty and disenfranchisement there." With Palos' images, the story of what may be yet to come for its subjects is equally about what has come and gone, or failed to ever come at all, in the hometowns they've abandoned. 


If history, narrative, and lore can help us understand migrants' impulse to flee, they can further help us understand the cross-pollination of Mexican and Anglo male power-figures, and their glamorized, often violent caricatures. Oddly, the same day that Palos showed me his photos, drug lord pawn José Jorge Balderas Garza, "El Jota Jota," was apprehended by police and subsequently interviewed by television reporter Carlos Loret. The two men, who both embody trope images of masculinity in the Mexican media, sat face to face, quietly chatting as if they were English grannies taking afternoon tea. The interview was met with mockery by the press and the public. The same men trading in gang violence and black market economies (supplying demands often north of the border) are increasingly the buzz of periodismo del corazón, or gossip news, in Mexico.


This cultural fixation with violent and feared male caricatures, however, has long stemmed back to the stories of other violent figures, like el Zorro, who fought the feared, Anglo-savior of the Wild West, the Texas Ranger. Naturally, these stories are historically fueled by political and regional tension: when the U.S. annexed the North of Mexico with the Treaty of Guadalupe Hidalgo, the gold-fevered government forced Californians and Oregonians to either renounce their Mexican nationality or move south. The results saw decades of continuous conflict. And as the interview with El Jota Jota arguably proves, these caricatures don't seem to be going away. Speaking further to the hotly-debated Arizona legislation, and its affiliate politics, Garcia-Caro stated, "'Joe six pack' is a contemporary rendering of John Wayne, the cinematic icon of the Texas Ranger, enforcing expropriation and racial segregation."


John Wayne is in fact seen in Palos' photos, standing powerful, photographic guard over Oscar Gramajo, Comandante in the Guatemalan army. This, ultimately, is the underlying sophistication of Palos' work—juxtaposing frontier comics and movie caricatures with real-life characters. Leafing through My Perro Rano following the Wayne photo, for example, we see a comic book cover showing a Texas Ranger holding a Hispanic babe at gunpoint, which sits next to a close-up portrait of a young Mexican gang member. 


These gun-slinging children we see in Palos' photos, as well, demonstrate a pre-formed manhood—boys weaned on weapon-wielding power and survival. And like much of the youth across the world, they're privy to the U.S.'s fastest growing export: popular culture, that same popular culture that propagates the aforementioned myths of who these youngsters are supposed to grow to become. What's your choice, amigo? Drug dealer or lady-killer? "It is inevitable in this context," says Garcia-Caro, in response to youngsters' desires to affiliate with gangs and violent behavior, "that the Latino youth will feel the brunt of a mainstream society that has already codified them as culprits and criminals. Many soon internalize that code and despise their place in society. Who would like to be told they are liars, misfits, dirty, or illegal from childhood play into adolescence? If you add to that the constant economic struggle of parents who work very long hours, in harsh conditions few would sign up for, depressed communities without political representation and few public services, you get a very bleak scenario where social survival, even survival itself, is fragile."


Flipping through Palos' photos does indeed leave one with a sense of bleakness. But as he'll testify, art—for whatever purpose and by whatever means—need not be co-opted or simply exported by the powerful. Expression, music, stories thriving on the fringes will continue to amass across Latin America, over the border, entering the homes of shared histories, mingling where other stories are amassing. Lonely men will sing lonely songs. Joyful men will laugh and tell tall tales. "Success stories" will be internationally swapped over phones.


Meanwhile, the voice of a new generation takes form in the streets of Chicago, the backyards of L.A., the farmlands of Kentucky. It's not a "Latino" voice, but rather, a voice of generations in flux, able to weave in and out of structured identities, able to exercise cultural flexibility and linguistic versatility. Parents, uncles, abuelos, weathered and toned by journey, reach out to these youngsters with worn but vibrant arms. These figures' perseverance and unwavering responsibility are the most redeeming and heartbreaking human performances portrayed in Mauricio Palos' photos. Of course, the reemergence of a Latino culture on this shared continent will spark controversy as a constructed sense of nationality seems under attack. But if the recipe of American-ness has any pinches of lingering inspiration, they are the historic flavors of immigration and innovation. Both involve risk of failure beyond reason.